Fitness After Baby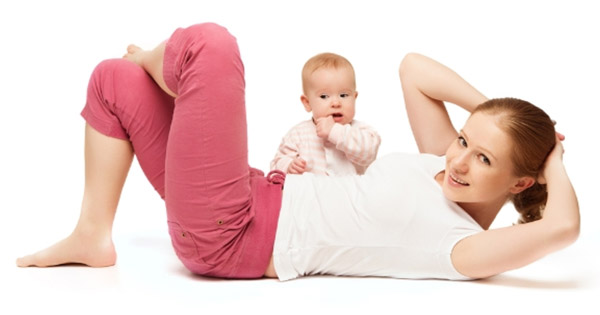 It might seem daunting to get back to an exercise regime after giving birth, or even begin an exercise regime for the first time after a baby, but the benefits of exercise will give you better energy levels and boost your mood.
After your six week check-up, ask your doctor about safe exercise you can do until you can move on. A good sports bra is a worthwhile investment, and if you are breastfeeding you should wear a nursing bra with a sports bra over it.
It's very easy to pull a muscle after giving birth, as the hormone Relaxin is present which loosens your joints, ligaments and muscles so exercise caution. Keep stretches light for the first three months after birth.
Good Workout Ideas
Walking is ideal, get out there with baby and buggy in tow. There are often local mother and baby walking groups, or rope in a willing friend or partner.
A 20 minute home workout while your baby is having a nap is a great option.
Some post-natal exercise classes allow you to bring baby along, ensuring you can work up a sweat while keeping an eye on them.
Swimming and cycling are great once your stitches have healed and you can sit comfortably.
If you're weight training, begin with bodyweight exercises, moving on to light weights at 8-10 weeks and avoid heavy weights for the first five months.
Strengthening your core and pelvic floor is paramount after giving birth.
Remember to stay hydrated, wear supportive shoes, and know your limits. If you get dizzy, breathless or nauseous - take a break before resuming or stop altogether. Always seek a healthcare professional's advice before starting a new regime, and just enjoy how great you feel when you look after your body and health!
Useful Links:
Post Pregnancy Pilates Classes - Full list of Pilates Classes in every county of Ireland
Post Pregnancy Yoga Classes - Full list of Post Pregnancy Yoga Classes in every county of Ireland
Post Pregnancy Supports - PregnancyandBaby.ie are stockists of a variety of post-partum recovery and support products, including the highly-acclaimed Belly Bandit range which offers a superior support system to keep you cosy
Pelvic Toners - Using a pelvic toner to strengthen your pelvic floor can also help your body recover post-birth, and we stock a wide range from brands like Sensatone, Elvie and Kegel8
Back to Post Pregnancy Category